Retread 360™Advantages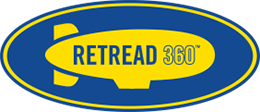 All Retread 360™casings are major brand casings cured with proven tread designs developed by Goodyear engineers. These environmentally friendly retread tires are manufactured by Goodyear.
ROAD HAZARD WARRANTY1
18 Months MINIMUM TREADWEAR
Up to $45 CASING CREDIT PER TIRE2
NO FEDERAL EXCISE TAX
NATIONWIDE WARRANTY1
Warranties valid only at Goodyear Commercial Tire & Service Center locations.
1See warranty document for complete details.
2After usable treadwear, Retread 360 retreads are eligible for a $45 casing credit, less the cost of repairs, so long as the casing is 5 years or less from the date of manufacture, is structurally sound, and meets retread specifications.
Retread Advantages
MULTIPLE RETREADS PER CASING
LOWER COST PER MILE COMPARED TO NEW TIRES
NO FEDERAL EXCISE TAX (FET)
HIGH-QUALITY RETREAD PROCESS